What Are RepairPal Certified Shops?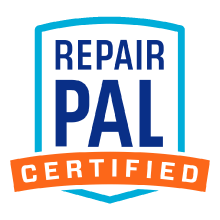 RepairPal Certified shops are a nationwide network of more than 500 certified auto repair shops that set the bar for quality repairs, fair prices, and consistently high customer satisfaction. Only shops committed to the highest quality standards and exceptional customer service are invited to become RepairPal Certified shops.
RepairPal's own team of ASE-certified Master Technicians designed an 84-question survey that rigorously assesses all aspects of a shop, covering technician experience and training; tools and diagnostic equipment; the shop's policies and business practices; and the parts they use. We also do a background check on the shop and re-assess it annually for compliance. Finally, we demand that all RepairPal Certified shops stand behind their work with a parts and labor warranty of at least 12 months or 12,000 miles (whichever comes first).
All RepairPal Certified shops stand by the prices generated by the RepairPrice Estimator and will honor them without question, meaning that you will never pay more than you should.