What is The Blue Seal of Excellence Program?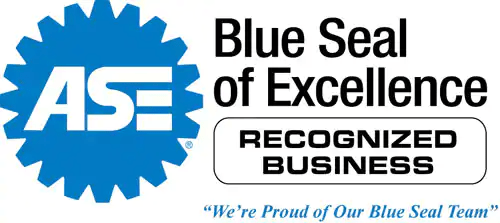 Finding a good auto repair facility is always a concern, especially when the unexpected happens. One important thing to remember is to look for ASE Certification.
ASE has years of experience helping the automotive industry verify the skills and knowledge of the technicians working at dealerships, independent repair shops, collision shops, franchises and more. Car owners and the service industry regard ASE certification as the standard measure of competency and a guide to quality auto repairs.
ASE has taken this responsibility one step further by offering recognition opportunities for highly qualified repair facilities, which allows them to showcase their technicians and their commitment to excellence. It is called the Blue Seal of Excellence Recognition Program. The program's emphasis is to identify establishments with a large percentage of ASE-certified professionals. It is a recognition program for businesses striving to be the best, and willing to prove their commitment.
In the entire state of Georgia, only 33 auto repair companies are certified at ASE's highest level - The ASE Blue Seal of Excellence Recognized Businesses. Keep in mind, there there are over 10,000 auto repair shops, dealerships and other facilities in the state*, so this is a very significant qualification to our commitment and abilities to provide service to your vehicles.