April 18, 2015
We'd like to wish our Porter, Rickey, a Happy 1 year Anniversary at Braxton Automotive. He's helped out around the shop so much and we hope he hangs around for many more years to come.

July 27, 2015
If you drive down Howell Mill everyday then you know we have inspirational or motivating quotes on our sign each week. This weeks sign is one of my favorites.

June 15, 2015
Our Parts Manager and Our Apprentice are both in the Air Force Reserves. Chris, our Parts Manager sent us these pictures on one of his work trips for the weekend. Such beauty.

May 25, 2015
Just another day at the shop. The Techs are hanging out in between repairs and the Service Advisors are busy at the desks. Never a dull moment here.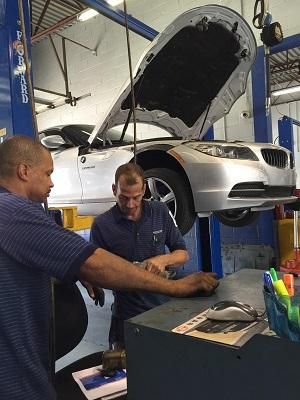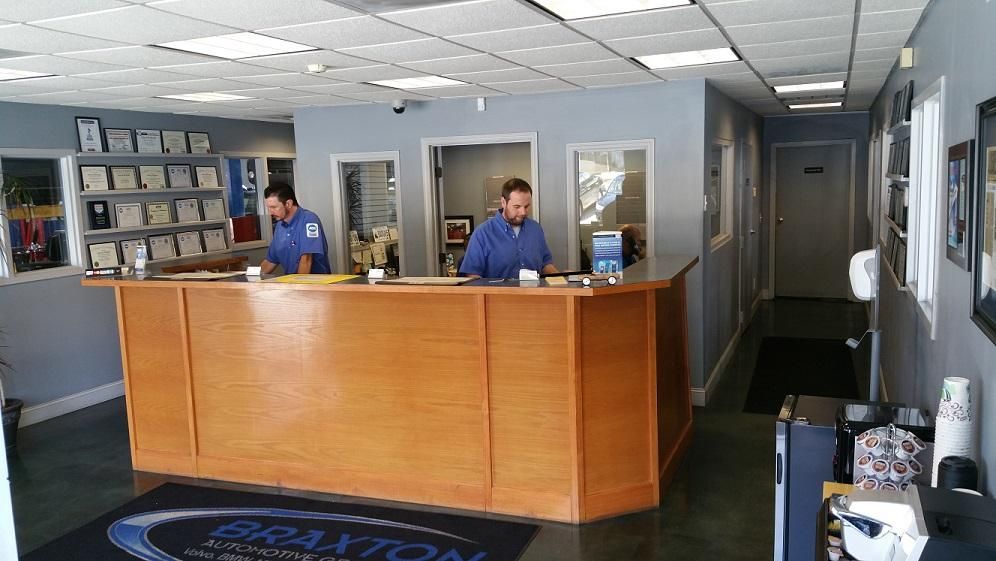 May 6, 2015
We got a new alignment machine. The Techs are excited about all the new features it offers. In case you didn't know, we have a dedicated alignment bay, nothing but alignments all day long.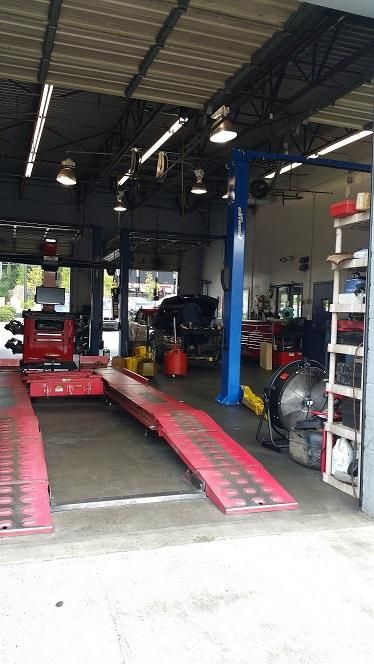 April 16, 2015
Bosch Mobile Training Center stopped by and let our Techs try out their simulated training. They had to diagnose a car, make repairs and take a test.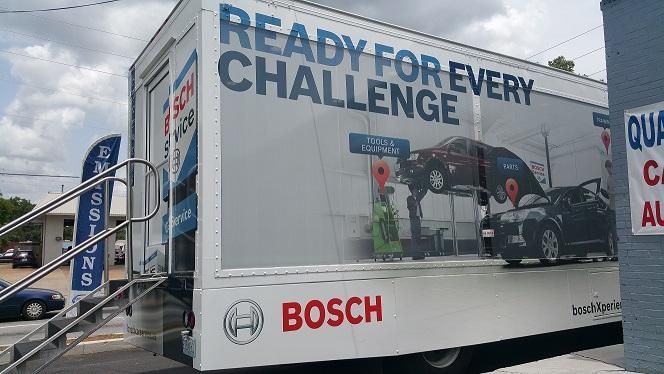 March 1, 2015
Happy 17 Years in Business Braxton Automotive. So much has happened in 17 years and we are beyond thankful to share them with you. We started out with just 4 bays and half of the waiting room, now we have expanded to the whole building along with the building next door to total 12 bays, an alignment bay, a car wash bay and an emissions bay. We're doing our best to serve your vehicle needs.

February 20, 2015
The pavement is finally finished in our parking lot next door. It looks great! We can now drive from one parking lot to the next. How convenient!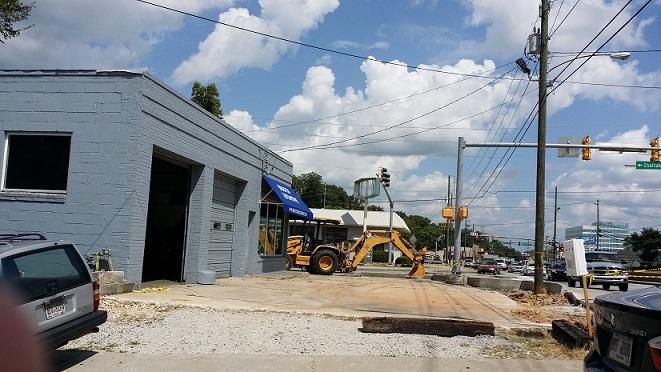 January 17, 2015
Boy do our ASE patches stand out! You can see it clearly as our Technician, Vinnie, takes this car for a test drive.

December 19, 2014
Happy Holidays from all of us at Braxton Automotive. We had a potluck today with all kinds of homemade goodies. Not only can we fix cars, but we cook too! Along with lunch, we all wore ugly sweaters. Our Shop Foreman, Chuck, got the most votes with Technician Kyle right behind. And boy did our customers get a kick out of our 'uglyness'!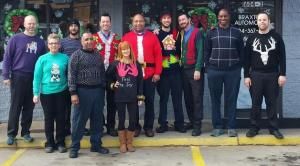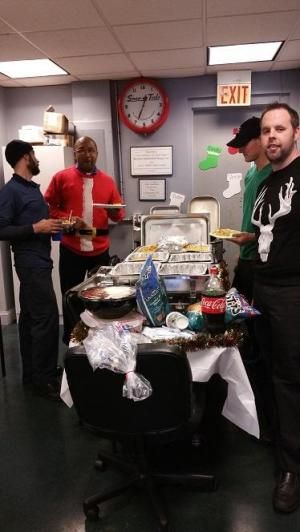 November 11, 2014
Happy Veteran's Day! Braxton Automotive is a big supporter of our military. We have 5 employees who have or are still serving in our military. We showed our appreciation by treating them to lunch.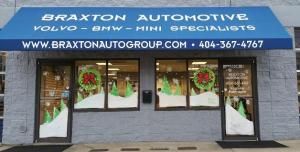 July 4, 2014
Happy Independence Day! We will be closed today due to the Holiday. We hope you enjoy this day with your family and friends.
Today our Technician Eric ran the Peachtree Road Race for the 2nd year in a row. He finished in 1:36:27, not bad Eric! Also a runner was Mr. Braxton himself along with his whole family at 1:53:22.

April 1-30, 2014
April is Car Care Month. Now is the time to stop and give your car a walk-around or let us check it out for anything that may need attention. Our cars carry our most treasured possessions, let's make sure we take care of them.

February 12-13, 2014
Another weather related update....Braxton Automotive will be closed both days due to the road conditions. Two times in one year!?!? Well again, be careful and stay home if you can. Maybe one day we'll get back to working on cars.

January 29-30, 2014
We will be closed both days due to the roads not being driveable. We hope everyone was able to make it home Tuesday evening or at least were able to stay warm. Please, stay off the roads.

January 28, 2014
We will be closing at 3 today due to the inclement weather. Sorry for the inconvenience. Please drive careful and stay warm!

January 6, 2014
Georgia had some history making temperatures today. Some parts of GA felt like -5 degrees while most of the state was bearing single digit weather. We are definitly not used to cold like this! But we are open and we have very hot coffee should you happen to stop by today.

April 16, 2013
Our Shop Foreman, who is in charge of quality control and customer satisfaction, is celebrating one year with Braxton Automotive today. Congrats, Chuck, it's been a pleasure having you on our team!

March 11, 2013
An Apprentice joins our great team of ASE Certified Technicians and staff. Training one person at a time to master your vehicle's needs.

March 1, 2013
We are celebrating our 15 year anniversary today! Braxton Automotive has been in business, in the same spot, with the same owner for 15 years. Not to toot our own horn, but what an accomplishment! Congrats Mr. Steve Braxton and staff on the success of Braxton Automotive Group, Inc. Here's to another 15!

February 18, 2013
You will notice more and more changes around Braxton. While we try to expand to offer you more services and less wait time, we will be adding to our family of employees. We had a new Service Advisor start today, his name is Jason. He will be taking the place of Craig, who will go to our new 'Parts Department'.

February 10, 2013
Braxton Automotive is now open for EMISSIONS testing! It took longer than we expected, but we are up and running. You can pull into either building and we'll get you taken care of. It takes about 15 minutes and you DON'T need an appointment. For now we are open Monday-Friday 8am- 5pm (emissions hours only).

January 2, 2013
Just found out that Braxton's website was chosen as one of the top 10 automotive websites in the nation. Thank you Dynamix for giving us a great design to work with, thank you Jessi for adding/updating all the content and thank you to our veteran and potential customers who interactively use our website for their needs. Go Braxton!

January 1, 2013
We will be closed in observance of the New Year. Enjoy your last days of 2012, set new goals and look back on all the wonderful memories of this past year. We enjoyed meeting so many new people and reconnecting with our long time customers as well. We are so thankful to be surrounded by such great people. Happy New Year!

December 26, 2012
Braxton Automotive welcomes our newest employee, Jerrold. He will start out as an apprentice learning the ins-and-outs of the luxury vehicles we specialize in. If you happen to come in for service in the near future, please say hello or introduce yourself. It's great when we add to our family whether it be in the form of a customer or a new employee.

December 24-25, 2012
Braxton Automotive is closed so that everyone can enjoy the holiday with their friends and family. We will be back bright and early on Wednesday morning. Merry Christmas to all!

December 22, 2012
Our company Christmas Dinner was tonight at Agatha's, A Taste of Mistery. What a place! The food was great, the show was hilarious and the company was like family. Thanks Steve for all that you do for your employees!

December, 2012
Come in any time this month and drop off a new, unwrapped toy for Toys for Tots.

November 30, 2012
Today we congratulate and celebrate our Service Advisor, Dave, on 3 great years here at Braxton. He actually started on December 1, 2009, but we are closed and we did not want to miss the opportunity to show him some appreciation. Although we should be thankful everyday, days like today remind us of what a wonderful Team we have here.

November 26, 2012
We were a little late in picking last week's winners because we were closed, but we didn't forget. Congrats to Goldwin for winning a $50 gas card and Charles and Bobbie for winning a Free Oil & Filter Service.

November 22-23, 2012
Braxton Automotive will be closed in celebration of Thanksgiving. Speaking of thanks, we are SO THANKFUL for every customer who has stepped inside of Braxton's doors and used our service at some point or another. We are blessed to meet such amazing people and build relationships and friendships as well.

November 14, 2012
Congrats to this Friday's winners, Anthony and Jeanne. Anthony received a $50 gas card and Jeanne won a Kindle Fire.

November 7, 2012
Congrats to our winners, Lisa and Andrea. Lisa received a $50 gas card and Andrea received a Free Oil & Filter Service.

November 1-30, 2012
It's Customer Appreciation Month here at Braxton Automotive. We are giving away lots of goodies this month. We can't wait to see each and every one of our wonderful customers and personally thank ya'll for your loyalty. We have gas cards, free oil changes, an iPad2 and a Kindle Fire to give away. We've got reusable grocery bags, chapstick and treats. Please stop in, you're always welcome!

October 31, 2012
Happy Halloween and congratulations to our Tech, Martin, who passed two ASE tests today. One by one, our Techs are studying, practicing and testing. Before you know it, all of Braxton Automotive will be ASE Certified, we promise.

October 26, 2012
Braxton Automotive wished our Service Advisor, Craig, a very Happy Birthday today. You would be amazed if we told you how old is, but we won't. Let's just say you wouldn't believe us anyway.
We also wished our Office Coordinator, Jessi, a Happy 3 Year Anniversary. Lots of celebrating going on today. We sure do appreciate our staff and wish many more years of happiness and success to them all!

October 24, 2012
Our new building is getting a new look today! It is amazing what a little bit of paint can do. The building has been fixed up on the inside, cleaned and painted. A few more maintenance fixes and we should be up and running before you know it. We can't wait to be able to provide a quick service oil station and emissions to our customers.

October 23, 2012
Occasionally, we have visitors stop by; long-time customers, vendors, friends. Today we had, well, an insect; a rather LARGE insect.
A praying mantis was watching Vinnie, with its huge eyes, as he worked this afternoon. It was friendly enough to allow us some pictures. Intrigued, we did some research on our new friend. Praying mantis' can turn their head almost 180 degrees to survey their surroundings. They have two large eyes on the sides of their head, which are obvious, but they also have 3 tiny eyes in between. They will patiently watch their prey, then strike quicker than can be seen by the human eye. Pretty amazing insect, however ugly it is.
After we got to know each other better, and realized we had no flies, grasshoppers or crickets to offer, it went on its merry way.

October 4-12, 2012
Craig is on vacation in Colorado through Friday the 12th. No worries, Dave, Steve or Chuck are just as capable in answering all of your vehicle questions. You should start to worry on Thursday and Friday when Steve will also be gone on his quarterly iAP20 Group meeting. Just kidding! Thankfully, Braxton has a handful of staff to help you so that our other employees may enjoy their hard earned vacations. It will be busy here, but none-the-less, we've got you covered. We appreciate your patience and understanding and after this week, Dave will want need a vacation!

September 26, 2012
We celebrated our Office Coordinator, Jessi's, 28th birthday today. There was chocolate, chocolate cake and more chocolate, per her request, followed by lunch at American Deli. We wish her a very Happy birthday and many, many more to come!

September 21, 2012
We have a photographer and videographer taking pictures and videos of our shop today. This will give new customers an opportunity to see us before they....well, see us. The video and pictures will be on YP.com and soo uploaded to our webpage and Facebook page. Please remember, we are not actors! =)

September 9, 2012
Employee Day 2012. Our whole group went to Skydive Atlanta and jumped out of a plane at 14,000 ft in the air. You can read more about it and see all of the pictures under the Employment tab. Braxton Automotive wants to thank each of it's employees for another great year. These guys/gals show up to work everyday, work hard, take care of our customers and always go above and beyond what is expected of them. Thanks!

September 7, 2012
Braxton Automotive is celebrating our Tech, Vinnie's, 5 year anniversary today. He is such an asset to Braxton Automotive and we sure do appreciate him! Thank you for all of your hard work and dedication to the shop and our customers.

August 31, 2012
Eric, Braxton's longest serving Tech, took and passed 3 ASE Tests this evening. We are proud of you Eric! Next time you're in, show him some appreciation. We are thankful to have Techs and staff who want to excel, learn and do more.

August 3, 2012
We are celebrating Eric and Craig's employment anniversary with the most delicious group lunch. Craig seasoned and cooked an enormous amount of Boston Butt in the crockpot over night. There were all kinds of yummy sides and desserts. We had this place smelling wonderful! In fact, if you happened to come in around lunch today, Craig and Dave probably offered you a plate. We enjoy celebrating longevity. And with this group of people, the work atmosphere and our awesome customers, it's hard NOT to want to be here year after year. So Happy Anniversary Eric and Craig!

July 24, 2012
Our Office Coordinator, Jessi, graduated from Dale Carnegie's 12-week training program, Effective Communications & Human Relations/Skills For Success. She learned how to strengthen interpersonal relationships, manage stress and handle fast-changing workplace conditions. Dale Carnegie has taught her how to be a persuasive communicater, problem-solverand a focused leader. Most importantly, it has shined light on her confidence and enthusiasm.

July 21, 2012
Proof that our Techs love their cars.....Vinnie entered his limited edition Mitsubishi Galant VR-4 into EVOAtlanta's M.A.D. competition and won Sleeper of the Year. This is the second time this car has won a prize in 4 years. What is a sleeper? A car that does not look like it is fast. The Galant VR-4 is a four-door sedan, yet it has all-wheel steering, all-wheel drive, has intercooled induction and is turbocharged. Most interesting fact about Vinnie's car: it is one of 3000 imported into the US between 1991 and 1992.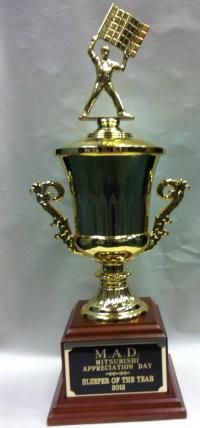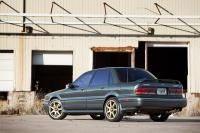 July 4, 2012
Happy 4th of July! Atlanta is famous for hosting the world's largest 10k run every July 4th. Thousands of people come from all over the world just to be a part of this amazing race. Well our very own Eric was priveledged in being selected in this years lottery and had the opportunity to run. He has been practicing for weeks building up his endurance. We are proud to announce that Eric completed the race in 1 hour and 36 minutes. Not bad for a first timer!

May 30, 2012
Our Service Advisor, Dave Skuza, took and PASSED two ASE tests this evening. He passed the 'Automobile Service Consultant Certification Test' and the 'Parts Specialist Certification Test'. We are so proud of him! Braxton Automotive encourages all of it's employees to excel and train outside of working hours. This includes our Technicians, Service Advisors and Office Staff as well as the Owner. This is not just a job for most of us, we take great pride in our careers and ourselves and we strive to improve both of them. This year so far, we have 153.5 cumulative training hours. So the next time you see Dave, make sure you shake his hand, give him a high-five or just tell him congrats, because boy did he earn it!!

May 28, 2012
Braxton Automotive is closed today in observance of Memorial Day. Please take a moment today to remember those who have served our country and have lost their lives. Also remember their families and the soldiers still serving. We are so thankful for you!

May 23, 2012
Happy 50th Birthday to one of Braxton Automotive's longest serving Technicians. Eric has been here for almost 6 years and he has brought so much knowledge, technical expertise, laughter and joy to Braxton Automotive. Thankfully we were able to teach him a lil' something along the way too. We are more than just co-workers here at Braxton Automotive, so when someone is celebrating a birthday, especially one so historic, I mean big, we go all out. We started the day by having a shop meeting bright and early, an hour before we opened our doors. Nothing like car talk at 7 am. Then Steve treated everyone to a nice warm breakfast, but Eric chose to drink his food all day - something about being on a diet. So none of us walked by him with our delectable, savory, enticing, mouthwatering bacon, eggs, grits or toast to rub in the warm, aromatic, solid food we were consuming, nope, we wouldn't treat him that way.

After breakfast, we decorated our break room with all kinds of birthday hoopla. Nothing too exciting, we specialize in reviving luxury vehicles, not luxury people. Eric's birthday ended with a gift from the group and another big "Happy Birthday!"

Needless to say, Eric is very dear to us and after spending countless hours a day/week/month/year with everyone here, we all turn into family. So it has been our pleasure to watch this young man grow and excel, and look forward to spending as many more years with him as he will allow us.

May 18, 2012
We appreciate our customers everyday, but it's not everyday we are shown appreciation - and we understand; you're busy, this is probably the last place you want to be today, car trouble is like tooth trouble - unpleasant! Well, we just wanted to acknowledge one of our awesome customers, Brad, for bringing us these yummy donuts to snack on all morning. As you can tell, they are not going to last long. Thank you Brad, from all of us at Braxton Automotive, we appreciate the kind gesture!

April 13, 2012
Braves Opening Day! Our partners at WSB Radio gave us 4 tickets to the Braves home opener against the Brewers. Steve, Craig, Eric and Ryan along with WSB's Kyle had a great time tailgating and cheering on our Atlanta Braves who happened to win.

March 1, 2012

Braxton Automotive is now the proud owner of the property on the corner of Chattahoochee Avenue and Howell Mill Road, or as the locals might know it- the yellow building on the corner of Howell Mill. As soon as we are done renovating, we will be able to offer detailing for your vehicle, emissions tests and.....wait for it.....weekend hours! We've been listening, and in just a matter of weeks, we will be your luxury vehicles one-stop-shop.

January 12, 2012
WorldPac's Supplier & Training Expo
Braxton Automotive's owner, Steven Braxton, had the pleasure of flying to Anaheim, California to attend WorldPac's 2nd Supplier & Training EXPO. Steve went with over 1000 attendee's from the US, Canada and Puerto Rico. Participants included independent repair shop owners and technicians. The event included world-class technical training from some of the best trainers in the United States and England. The Expo also included over 80 top suppliers who provide parts, tools and equipment to auto manufacturers and the independent repair industry. Represented was Bosch US, Autologic of England and the WorldPac Institute here in the US.
Steve attended five informative classes including:

Toyota Prius Hybrid Update and Diagnosis
Volvo 2011 XC60 and S60 New Car Features and Safety Systems
Volvo Mastering VIDA (Vehicle Information & Diagnostics for Aftersales)
Range Rover L322 2006-2009 Updates and Diagnosis
Tire Pressure Monitoring Systems Training
On the 2nd and 3rd evening's, Steve stayed until they closed the doors, talking with representatives from many of the vendors, gathering information on new products, manufacturing techniques and new technologies, also gaining a better understanding of what they're doing to support the automotive industry.

Anyone who has been to our facility knows that Steve takes pride in our staff's technical training by displaying all of the training certificates we earn. Our staff is dedicated to bettering ourselves by staying up-to-date, earning our ASE and Bosch certifications.

Thank you WorldPac and all of the vendors for putting on such a world class event! - Steve
December 17, 2011
Braxton Automotive celebrated it's end of the year staff dinner at Lobby at Twelve at the Atlantic Station. Our staff and families enjoyed chicken, fish, steak and a night of great company and entertainment. After dinner we exchanged gifts and memories of the past year. As the night concluded, we came to realize, as we do every year, that we work for a great company and we have the best staff around!

December 5-15, 2011
Braxton Automotive is teaming up with Toys for Tots this Christmas. We are collecting toys from now until December 15. Bring in a new, unwrapped toy and receive $20 off of your invoice to be used anytime! "For it is in giving that we receive".

November 1-30, 2011
November is CUSTOMER APPRECIATION month at Braxton Automotive! Come on in, let us show you what customer service is all about. All month long it's all about YOU and your car of course. But don't be fooled, it's about the customer all year long at Braxton Automotive. But this month in particular, we are taking 30-50% off all mileage interval services! Don't wait, take advantage of this great deal today!

November 24-25, 2011
We will be closed for the Thanksgiving Holiday. Braxton Automotive wishes everyone a safe and Happy Thanksgiving!

November 16, 2011
Today our team members attended Disney Institute's 'Approach to Business Excellence' class. The class aims to teach what Disney calls the "five most powerful lessons in business". These lessons included Leadership, Quality Service, Loyalty, Creativity/Innovation and Management. Disney hopes, as do we, that building upon these lessons, we will forge a bond between our leaders, employees and customers. As we soaked in all of Disney's brilliant ideas, we were amazed at how much we could learn in just one day! Here are just a few of the hi-lights:

Valuing diverse points of views in order to encourage new ideas
Engaging in ongoing improvement processes Involving staff in low-cost or no-cost improvement ideas
Developing clear visions for our employees and our customers
Emphasizing and integrating a consistent message throughout our shop
Encouraging and recognizing ongoing career development
Promoting an environment that matches the values of Braxton Automotive
Learning how to gauge customer's needs, wants and emotions
Treating customers like a VIP at all times
So as you can see, we are not "just a shop". We strive to be THE shop. We take every opportunity to go above and beyond, to better ourselves at every chance we get. We value our customers, we value ourselves and we continue to improve to meet your needs.

October 21, 2011
Our Office coordinator, Jessi, graduated with her Associates in Business today. She is a full-time mother of 3, puts in at least 50 hours a week here and is a full-time college student. We don't know how you do it, but congrats on your wonderful achievements! We are proud to have you here!

September 24, 2011
Every year Braxton Automotive gets all of it's employees together, outside of work, for a day of fun and bonding. We get to learn more about each other and get to know each other's families as well. It's an experience like no other. When we get back to work on Monday, we are a stronger, closer TEAM.

This year we went to the North Georgia Canopy Tours. It was 3 hours of nature walks, sky bridges and 12 ziplines. We zipped over 3 ponds and even crossed the Oconee River. The tour concludes with a rappel down a huge tree. The last zipline was a thrilling dual zip that showed our competitive spirits.